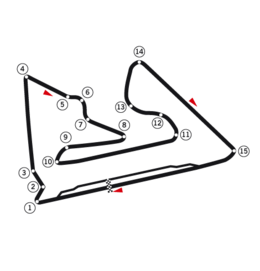 The Bahrain International Circuit (Arabic: حلبة البحرين الدولية) is a venue used for drag racing, GP2, and an annual Formula One Grand Prix. For the first time in 2006, there was a V8 Supercar race, named the Desert 400, and also a 24 Hour Race.
The construction of the Bahrain circuit was a national objective for Bahrain, initiated by the Crown Prince, Shaikh Salman bin Hamad Al Khalifa. The Crown Prince is the Honorary President of the Bahrain Motor Federation.
Race organizers were worried that the circuit would not be complete in time for the 2004 Grand Prix and attempted to cancel the event, however Formula One supremo Bernie Ecclestone refused this request. In the end, the circuit was not quite fully complete, but was good enough for the grand prix to go ahead.
Learn More at WikiPedia
Published under the
GNU
Free Documentation License