Schumacher, Michael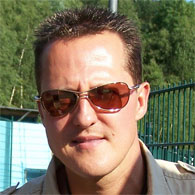 N | Michael Schumacher
B |

Germany, Hürth-Hermülheim
A | 44 (1969-01-03)
U | http://www.michael-schumacher.de/

More information
Michael Schumacher (born 3 January 1969, in Hürth-Hermülheim, Germany) is a Formula One driver and seven-time Formula One world drivers' champion, and current advisor and temporary driver for Ferrari. According to the official Formula One website, he is "statistically the greatest driver the sport has ever seen". He is the only German to win the Formula One World championship, and is credited with popularizing Formula One in Germany. In a 2006 FIA survey, Michael Schumacher was voted the most popular driver of the season among Formula One fans.
Learn More at WikiPedia
Published under the
GNU
Free Documentation License
Add message

|
timassa
|
2011-09-12 13:23:25
aller schumi t es le meilleur


|
loic
|
2011-06-15 13:06:01
c'est le meilleur

|
alonsodu61
|
2010-12-31 22:06:27
il était meilleur avant mais cette année il est nul


|
lolo
|
2010-11-11 15:23:38
nul nul nul


|
lucasm
|
2010-09-27 00:45:47
Schumacher é bom mais aquela vez que ele empurrou barriquelo no muro não gostei

|
PhantomStoneS
|
2010-04-07 10:10:19
Estas entre los 3 mejores de la historia...!...suerte en tu regreso...!

|
DinDin Wrecker
|
2010-03-14 12:31:48
Good luck Mikey!

|
duccio
|
2010-02-28 15:31:10
king is a king

|
bandit21
|
2009-08-23 16:32:26
oui c est ca le meilleur pilote de tout les temps

You can add messages only when you are logged in
Data is being loaded...

New players (12679)
17 May 14:53

raoulmassa
16 May 17:05

Fitouf
16 May 16:24

senna4ever
16 May 08:34

baardolf
15 May 19:52

zematteo
14 May 17:28

HamzaAzamUK
13 May 17:12

fernando
12 May 12:43

Daniel Cappellini
12 May 04:31

TheOtowngman
11 May 21:19

koertjacob