Grosjean, Romain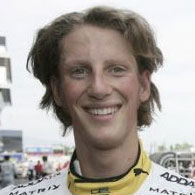 N | Romain Grosjean
B |

Switzerland, Genève
A | 36 (1986-04-17)
U | http://www.romaingrosjean.com/

More information
Romain Grosjean (born April 17, 1986 in Geneva, Switzerland) is a racing driver, who holds dual nationality from France and Switzerland, but competes under a French racing licence. He was the 2007 Formula Three Euroseries drivers' champion and the inaugural GP2 Asia Series champion.
Grosjean won all ten rounds of the 2003 Swiss Formula Renault 1.6 championship and moved to the French Formula Renault championship for 2004.
He was seventh in that first season with one win and champion in 2005 with ten victories. Grosjean also appeared in the Formula Renault Eurocup and finished on the podium twice in Valencia.
With his results and potential in the Formula Renault series, Romain joined the Renault Driver Development for the continuation of is career.
Learn More at WikiPedia
Published under the
GNU
Free Documentation License
Add message

There are no messages posted yet.

You can add messages only when you are logged in
Data is being loaded...

New players (162708)
18 May 22:39

18 May 22:38

18 May 22:38

18 May 22:38

18 May 22:37

18 May 22:37

18 May 22:37

❤️ Dorothy want to m...
18 May 22:36

18 May 22:36

18 May 22:36

Ranking drivers
Nothing found.