Kobayashi, Kamui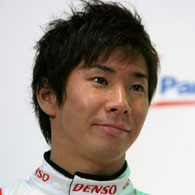 N | Kamui Kobayashi
B |

Japan, Amagasaki, Hyogo
A | 26 (1986-09-12)
U | http://www.kamui-kobayashi.com/

More information
Kamui Kobayashi (full Kanji: 小林可夢偉) (born September 13, 1986 in Amagasaki, Hyogo) is a Japanese driver currently competing in the GP2 Series championship. Kobayashi is also a test driver for the Toyota Formula One team.
Kamui Kobayashi began his career in motorsport in 1996 when he was nine years old - the Japanese driver finish third in his first season of karting in the SL Takarazuka Tournament Cadet Class. The following seven years, Kobayashi took four karting titles, winning the Toyota SL All Japan Tournament Cadet Class series twice.
In 2004, the Japanese driver signed up for Toyota's Driver Academy and soon began his career in open wheel racing. Kobayashi's next step was Formula Renault, entering the Asian, German, Italian and Dutch championships. The Japanese driver took two races victories in the Italian championship. Kobayashi continued his campaign in the Formula Renault class, entering the Italian and European championships and with six wins in both championships, the Japanese won both titles.
Learn More at WikiPedia
Published under the
GNU
Free Documentation License
Add message

There are no messages posted yet.

You can add messages only when you are logged in
Data is being loaded...

New players (12682)
24 May 08:13

Paultjepower
20 May 05:15

spencerdorsey
19 May 13:23

teddybeertje
17 May 14:53

raoulmassa
16 May 17:05

Fitouf
16 May 16:24

senna4ever
16 May 08:34

baardolf
15 May 19:52

zematteo
14 May 17:28

HamzaAzamUK
13 May 17:12

fernando