Maldonado, Pastor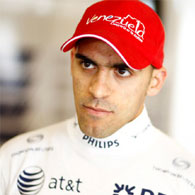 N | Pastor Maldonado
B |

Venezuela, Maracay
A | 34 (1985-03-09)
U | http://www.pastormaldonado.com/

More information
Pastor Rafael Maldonado Motta (born March 9, 1985 in Maracay) is a Venezuelan racing driver, whose career has thus far centred around single-seater Formula racing. He is the current GP2 Champion, and a former champion of Italian Formula Renault. He is currently a driver for the Williams Formula One team, and will make his début at the beginning of the 2011 season.
Maldonado's first experience of formula racing began in Italy in 2003. He competed in the Italian Formula Renault Championship with Cram Competition, and was classified seventh in the drivers' championship. His notable results included three podium finishes and one pole position. Cram Competition also entered one round of the German Formula Renault Championship at Oschersleben.
In 2004, Maldonado ran a dual programme in Italian and European Formula Renault with Cram Competition. He won the Italian title, with eight wins and six pole positions from seventeen starts. In the European championship, he was classified eighth overall, with two wins. Maldonado also found the time to enter one round of the now defunct Formula Renault V6 Eurocup at Spa-Francorchamps, with a best finish of fifth place.
In November 2004, Maldonado was given an opportunity to test with the Minardi Formula One team at Misano in Italy. The team's former owner, Giancarlo Minardi, was present at the test and commented positively about Maldonado's performance.
Learn More at WikiPedia
Published under the
GNU
Free Documentation License
Add message

|
rdwan arab
|
2013-08-06 08:13:16
helow


You can add messages only when you are logged in
Data is being loaded...

New players (18332)
20 Mar 00:18

Batman
17 Mar 11:15

hoschjimm
17 Mar 03:26

Jordybrenders
16 Mar 05:34

turcottep3
16 Mar 03:39

ZBEST
15 Mar 14:47

Eleven Elevenths
15 Mar 13:59

alvarez
15 Mar 09:20

tibor4u
15 Mar 09:10

d.binnekamp
14 Mar 13:27

jostiband
Ranking drivers
Nothing found.