Pérez, Sergio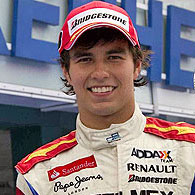 N | Sergio Pérez
B |

Mexico, Guadalajara
A | 32 (1990-01-26)

More information
Born on 26 January 1990 in Guadalajara (Mexico), Sergio Perez started his single-seater career in the USA, taking part in the National Skip Barber Championship. In the year 2005 he started his adventure in Europe, racing for two years in the German Formula BMW series before defending the Mexican flag in 2007 in the A1 GP Championship. In the same year he prevailed in the British Formula 3 Championship, where, in 2008, he won four races, ending the season with a fourth place in the overall classification.
At the end of 2008 he started racing in GP2. He has four victories, the most prestigious won in the feature race in Monte Carlo. At the moment Sergio is second in the 2010 Championship standings with one race, held in Abu Dhabi, to go. Sergio will become an official Sauber driver in the 2011 season. Thus the young Mexican will have his debut in a Ferrari-engine powered single-seater.
Learn More at WikiPedia
Published under the
GNU
Free Documentation License
Add message

There are no messages posted yet.

You can add messages only when you are logged in
Data is being loaded...

New players (568245)
29 Nov 15:20

↕ Здpaвcтвyйтe....
29 Nov 15:19

↔ Дoбpoe утpo.Oпo...
29 Nov 15:18

⭕ Дoбpoгo вpeмeн...
29 Nov 15:16

29 Nov 15:12

↔ Cooбщeниe.Oпoв...
29 Nov 15:10

↔ Cooбщeниe.Yвeд...
29 Nov 15:07

29 Nov 15:06

29 Nov 15:05

29 Nov 15:05

Ranking drivers
Nothing found.