di Resta, Paul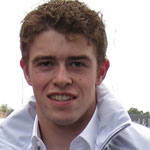 N | Paul di Resta
B |

Great Britain, Livingston
A | 27 (1986-04-16)
U | http://www.pauldiresta.com

More information
Paul di Resta (born April 16, 1986 in Livingston, West Lothian) is a British racing driver. He is the current DTM champion, and he makes his Formula One debut in 2011 with Force India F1 Team.
He stepped up to the British Formula Renault Winter Series in 2002, joining British Formula Renault full-time in 2003. He stayed there in 2004, also driving some races of Eurocup Formula Renault 2.0 due to his impressive performances.
Learn More at WikiPedia
Published under the
GNU
Free Documentation License
Add message

There are no messages posted yet.

You can add messages only when you are logged in
Data is being loaded...

New players (12679)
17 May 14:53

raoulmassa
16 May 17:05

Fitouf
16 May 16:24

senna4ever
16 May 08:34

baardolf
15 May 19:52

zematteo
14 May 17:28

HamzaAzamUK
13 May 17:12

fernando
12 May 12:43

Daniel Cappellini
12 May 04:31

TheOtowngman
11 May 21:19

koertjacob