Sainz, Carlos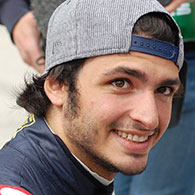 N | Carlos Sainz
B |

Spain, Madrid
A | 23 (1994-09-01)
U | http://www.carlossainz.es/

More information
Carlos Sainz Vázquez de Castro, known as Carlos Sainz, Jr., (born 1 September 1994) is a Spanish racing driver and the son of former World Rally Champion Carlos Sainz. In 2012 Sainz, Jr. raced in the British and European Formula 3, championships for Carlin. He is racing for DAMS in the Formula Renault 3.5 this year. On 28 November 2014, it was announced that he will drive for Scuderia Toro Rosso in the 2015 Formula One season.
Learn More at WikiPedia
Published under the
GNU
Free Documentation License
Add message

There are no messages posted yet.

You can add messages only when you are logged in
Data is being loaded...

New players (14052)
18 Feb 01:57

edilann780
16 Feb 23:42

Thadion
16 Feb 21:19

Epoortman
15 Feb 17:56

142883
14 Feb 07:20

windiesel
03 Feb 19:31

Sconero
27 Jan 23:36

Rylpriems
16 Jan 10:42

biekkings
21 Dec 19:01

wimmpieb
27 Nov 04:04

idenalijacket
Ranking drivers
Nothing found.