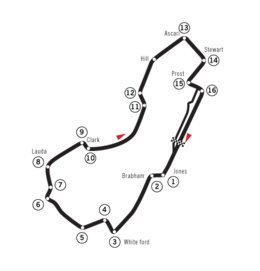 The Melbourne Grand Prix Circuit is a street-based circuit around Albert Park Lake, only a couple of kilometres south of central Melbourne. It is used once a year as a racetrack for the Australian Grand Prix and associated support races.
The circuit utilises everyday sections of road that circle Albert Park Lake, a small man-made lake just south of the Central Business District of Melbourne. The road sections that are used were rebuilt prior to the inaugural event in 1996 to ensure consistency and smoothness. As a result, compared to other circuits that are held on public roads, Albert Park is quite smooth as a racing surface and picturesque as before 2007 only existed a few other places on the Formula 1 calendar where there were a body of water close to a racing track. Most of the new tracks, like Valencia, Singapore and Dubai have imitated that feature.
As a racing track of interest to drivers, it is considered to be quite fast and relatively easy to drive, with drivers having commented that the consistent placement of corners allows them to easily learn the circuit and achieve competitive times. However, the flat terrain around the lake, coupled with a track design that features few true straights, means that the track is not conducive to overtaking or easy spectating unless in possession of a grandstand seat.
Learn More at WikiPedia
Published under the
GNU
Free Documentation License