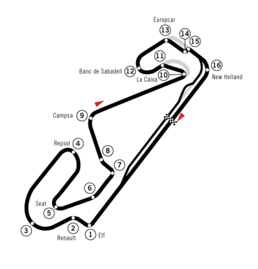 The Circuit de Catalunya is a racetrack in Montmeló, to the north of Barcelona, Catalonia. It is home to the Formula One Spanish Grand Prix and the motorcycle Catalonia Grand Prix. With long straights and a variety of corners, the Circuit de Catalunya is seen as an all-rounder circuit. As such it is probably one of the sport's most important testing grounds.
The Circuit de Catalunya was built in 1991 and is often referred to as 'Barcelona' in the racing community, despite the fact that it is located in Montmeló. The Circuit de Catalunya should not be confused with the Montjuïc circuit, which hosted the Spanish Grand Prix four times between 1969 and 1975 and, unlike the Circuit de Catalunya, is actually located within the city of Barcelona.
Because so much testing is done at this circuit, Formula One drivers and mechanics are extremely familiar with it. This has led to criticism that drivers and mechanics are too familiar with Catalunya, reducing the amount of on-track action.
Learn More at WikiPedia
Published under the
GNU
Free Documentation License