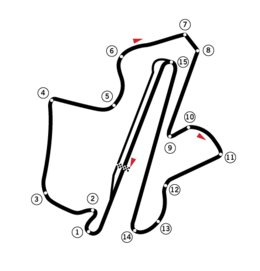 The Sepang International Circuit (SIC) is the venue used for the Formula One Malaysian Grand Prix, A1 Grand Prix as well as the Malaysian Motorcycle Grand Prix. It is also used as a venue for many other major motorsport events.
Widely regarded as a benchmark for other Grand Prix venues, the Sepang circuit boasts superb pit garage and media facilities, as well as impressive grandstands and patron amenities. Some complaints have been raised regarding the unevenness of the surface, as the track appears to be slowly sinking. This is possibly due to the fact that Sepang was built on the site of a former swamp.
The circuit was designed by German designer Hermann Tilke, who would subsequently design the new facilities in Shanghai, Bahrain and Turkey.
Learn More at WikiPedia
Published under the
GNU
Free Documentation License