Alonso, Fernando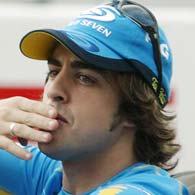 N | Fernando Alonso
B |

Spain, Oviedo
A | 41 (1981-07-29)
U | http://www.fernandoalonso.com/

More information
Fernando Alonso Díaz (born July 29, 1981 in Oviedo, Spain) is a Spanish Formula One racing driver and a two-time World Champion.
On September 25, 2005 he won the World Driver's Championship title at the age of 24 years and 58 days, thus breaking Emerson Fittipaldi's record of being the youngest World Drivers' Champion - a feat that was bettered by Lewis Hamilton in 2008. After retaining the title the following year, Alonso also became the youngest double Champion. In 2007, he became the second F1 driver, after Michael Schumacher, to score at least 100 points for three consecutive seasons. Nicknamed El Nano, Alonso acts as a Goodwill Ambassador for UNICEF and is one of the directors of the Grand Prix Drivers' Association.
Personal and early life
Fernando Alonso was born in Oviedo, Asturias in northern Spain. His mother worked in a department store and his father was employed as a mechanic in an explosives factory near Oviedo. Alonso has an older sister, Lorena. Alonso's father José Luis, an amateur kart racer, wanted to pass on his passion to his children. He built a kart, originally meant for eight-year-old Lorena, but unlike her three-year-old brother, she showed no interest in the sport.
Alonso is rumoured to be married to Raquel del Rosario, lead singer of Spanish pop band El Sueño de Morfeo. The two apparently married in November 2006.
He currently lives in Oxford, England, and owns a house in Mont-sur-Rolle, near Lake Geneva, Switzerland.
Learn More at WikiPedia
Published under the
GNU
Free Documentation License
Add message

|
Heathrow
|
2013-06-17 10:28:29
koll volio ankio venire

|
rickvc
|
2013-05-29 12:07:44
over het algemeen veruit de beste coureur van het moment


|
rhadora
|
2013-02-22 09:23:01
şampiyon olur

|
ace03
|
2012-11-08 15:21:31
je veux joué

|
Alonso5
|
2012-03-16 21:37:23
hij is de beste coureur ever hij is mijn held

Greetzz Jurgen/Alonso.

|
Gallardo
|
2011-07-11 07:45:31
Never Guive up! Fernanando is a fighter

|
alonsodu61
|
2010-12-31 22:04:18
il va gagner en 2011

|
lucasm
|
2010-09-27 00:43:34
Alonso é bom mais acho que ele é um pouco metido
|
tomz168
|
2010-06-14 00:22:31
............
|
tomz168
|
2010-06-13 20:30:45
Fastes Driver........

You can add messages only when you are logged in
Data is being loaded...

New players (496526)
14 Aug 02:38

Movies
13 Aug 06:30

Intelligent
12 Aug 22:51

Investment
11 Aug 06:36

calculating
10 Aug 22:46

Beauty
10 Aug 17:13

Avon
10 Aug 14:28

09 Aug 10:43

infomediaries
07 Aug 20:57
Notz99
07 Aug 03:46

Right-sized
Ranking drivers
Nothing found.