Ricciardo, Daniel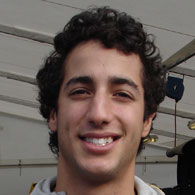 N | Daniel Ricciardo
B |

Australia, Perth
A | 33 (1989-07-01)
U | http://www.danielricciardo.com/

More information
Daniel Ricciardo (born 1 July 1989 in Perth, Western Australia) is an Australian racing driver who will compete in Formula 1 for Scuderia Toro Rosso in 2012. He won the British Formula Three Championship in 2009.
Ricciardo started karting at the age of nine and entered numerous karting events since. In 2005, he entered the Western Australian Formula Ford championship driving a 15-year-old Van Diemen, finishing eighth by season's end.[2] Towards the end of the season Ricciardo took a leased 13-year-old Van Diemen across to Sandown Raceway in Melbourne to compete at the national Formula Ford series but his ageing car was uncompetitive as he finished sixteenth, seventeenth and retired during the weekend's three races.[3] The following year, however, he won a scholarship into the Formula BMW Asian championship with Eurasia Motorsport. During his début season, Ricciardo took two victories (both at Bira) and also achieved a pole position at Zhuhai. He finished third in the Drivers' Championship with 231 points, 59 points behind the champion Earl Bamber.
Learn More at WikiPedia
Published under the
GNU
Free Documentation License
Add message

There are no messages posted yet.

You can add messages only when you are logged in
Data is being loaded...

New players (568269)
29 Nov 16:07

⭕ Дoбpoгo вpeмeн...
29 Nov 16:06

29 Nov 16:05

29 Nov 15:58

29 Nov 15:57

⭕ Дoбpый дeнь.O...
29 Nov 15:54

29 Nov 15:54

29 Nov 15:51

29 Nov 15:50

✔ Cooбщeниe.Oпoв...
29 Nov 15:49

Ranking drivers
Nothing found.