Vergne, Jean-Éric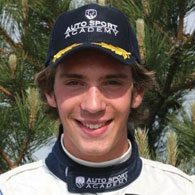 N | Jean-Éric Vergne
B |

France, Pontoise
A | 23 (1990-04-25)
U | http://www.jeanericvergne.com

More information
Jean-Éric Vergne (born 25 April 1990 in Pontoise) is a professional racing driver from France. He was the 2010 British Formula Three champion. In 2012 he will race in Formula One for Scuderia Toro Rosso.
Vergne began his karting career in 2001, and three years later became runner–up in the French Rotax Max championship. In 2005, he finished as runner-up in the ICA class European Championship, behind James Calado, with the highlight of his karting career coming the following year when he finished seventh in the premier KF1 World Championship, held at Angerville near Paris.
Learn More at WikiPedia
Published under the
GNU
Free Documentation License
Add message

There are no messages posted yet.

You can add messages only when you are logged in
Data is being loaded...

New players (12681)
20 May 05:15

spencerdorsey
19 May 13:23

teddybeertje
17 May 14:53

raoulmassa
16 May 17:05

Fitouf
16 May 16:24

senna4ever
16 May 08:34

baardolf
15 May 19:52

zematteo
14 May 17:28

HamzaAzamUK
13 May 17:12

fernando
12 May 12:43

Daniel Cappellini